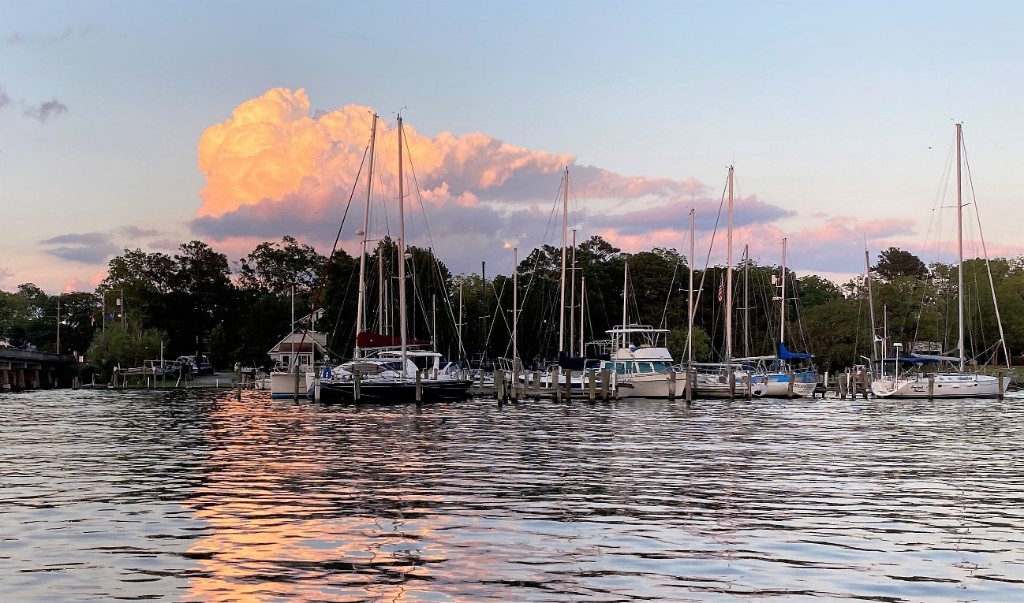 The moment you approach the Bath bridge on Scenic Highway 92, you will realize this is a very special place. As the gorgeous homes, the Marina loaded with sailboats, and the sparkling waters come into view – the stunning beauty of Bath will capture your heart.
Small towns like Camden, Maine, and Mystic, Connecticut might come to mind. This town was, until recently, mostly undiscovered by the outside world. Historically known as the first town in North Carolina and home to the infamous Blackbeard the Pirate, it is loaded with history. Bath was also the inspiration for the hit movie and Broadway production, "Show Boat". Historic markers make note of the famous landmarks – and Bonner Park at the end of town is a delight to all who visit it.
Today, Bath is also known as a charming coastal village – and one that offers what everyone on the water wants – high ground! Many of the homes that line Bath Creek are above the flood zone, and the lucky homeowners have not only the luxury of a ground floor home, but the peace of mind that goes with it.
A few quaint restaurants and coffee houses, and a couple of tiny shops complete the town – and if you blink, you just might miss them. Many summer nights you'll find homeowners boating to the local restaurants to hear a local band playing outside, or just sitting with their friends to take in the sunset views.
Entertainment here consists of the water, and almost everything is geared towards that end. On some mornings, you can catch the eagles flying low over Bath Creek, admiring their reflection in the waters below while searching for their morning meal. Great Herons and Osprey also frequent the creek, and if you're very lucky, you'll see the porpoise putting on a graceful show. You better plan on budgeting for a boat if you live in this County, it's as common as owning a car. Homes are strategically placed to absorb the stunning views, and almost everyone has a dock (and of course a back porch to enjoy the scenery and wave to boaters!).
The water here is brackish, and fishing offers up a wonderful cocktail of sea life. You can catch crabs – and catch trout- all on the same day! Bath Creek leads out to the beautiful Pamlico River, and from there, out to the Pamlico Sound and on to the Atlantic Ocean. You can take your boat from Bath all the way to the Outerbanks, or Europe if you so desire! Homes like this, in other parts of the country, would easily command five to ten times the price. The value of your money here is simply amazing.
This place was made for family gatherings – your family and friends will love the water sports here as much as you do. Imagine Oyster Roasts, Crab dinners, fish on the grill, all caught by your own family! Of course, if the fish just aren't cooperating, you can always buy the latest catch from a local down here.
The Fourth of July is very special – and Christmas in this tiny water town is delightful! Bath has a large Christmas parade and the sailboats get lined with cheerful, colorful lights down at the Marina. Most people put Christmas trees out on their docks as well, one of those special things you can do when you live on the water.
Many Raleigh professionals seek to retire in Bath, although the latest working from home trends have brought in a wide variety of people from all over the country, in all age brackets. Most of the properties surrounding the city limits of Bath have high-speed fiber-optic – perfect for those that love or need to be connected!
Bath is a world away from the cities and nightlife, but those things are only a short drive if you want them. Washington is a quick drive west, Belhaven is to the East, and Greenville (a college town with all the amenities) is less than an hour. All of those towns are larger than Bath, and offer a wider choice of shopping and restaurants. Of course, if you're really missing millions of people, you can always go a little bit farther to Raleigh and find the packed city with all of its offerings.
We really don't think you'll miss it, though. Once you get a taste of Bath, it's hard to forget. The serenity and beauty here are very addicting. Come and discover for yourself – and remember to stop at Seabird Realty when you do!
Sorry we are experiencing system issues. Please try again.